Friday Afternoons - Figurenotes Resources
Inclusive Resources for Choirs
Snape Maltings' Friday Afternoons project encourages young people to sing. With newly commissioned songs and resources, teachers are able to get their classes singing and creating.
Friday Afternoons asked Figurenotes to transcribe some of their songs into stage 1 and stage 3 Figurenotes notation. By creating more accessible resources, we encourage more inclusive music practices, as well as injecting some colourful fun into rehearsals.
You can access Figurenotes resources through our Resource Base and through the Friday Afternoons Song Bank.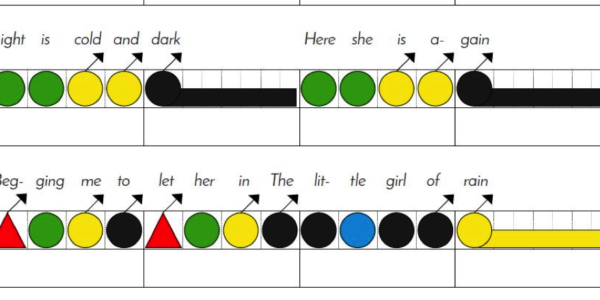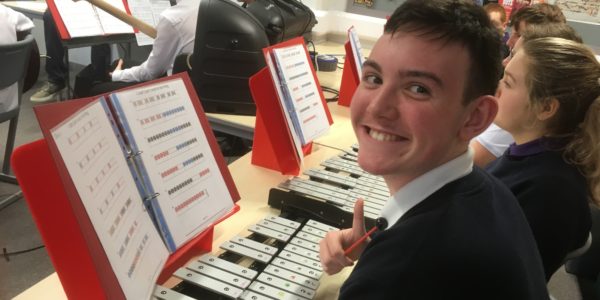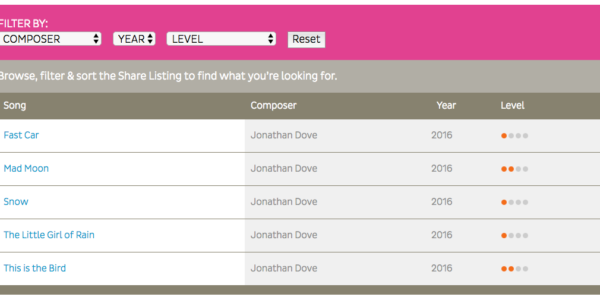 The day has been great! The games with Figurenotes gave me lots of new ideas. The computer session was really helpful and answered lots of my questions about how to do things. The band session was fun and illustrated how to get a group going. It was much better than I expected, as I had no idea what to expect! Loads of questions answered! Presenters were great! Thank you so much for a brilliant and inspiring day!
Amanda Frew
A well organised day; good pace. Really well resources, with instruments, computers, etc. Ideas for how to teach Figurneotes in the early stages was really useful. Breaking down the content into manageable chunks and progressing. Great to put it all together in the band session.
Johnathan Westrup – Drake Music (England)
Today was very useful. I can work on rhythm and pulse using Figurenotes to make it enjoyable for my pupils. Everything we covered was beyond my expectation. It was really valuable to have the different kinds of games you can play using simple materials. The adaptability of everything covered was really valuable.
Janet Okumu – Kodaly Instructor
Ideas for different ways of reading music, which will be very useful for a couple of students struggling with standard notation. The games ideas will be really useful too. Thank you!
Marit Falt
Learned more about using the software, which will help me build resources for my school. Loved the practical band skills. I can see this working really well in the classroom. I also enjoyed the games - would use them with ASN pupils and S1/S2. The most valuable aspect of the day was the band skills - seeing Figurenotes used on various instruments and how it might work in a group setting.
Jacqui Cockburn
The day was exactly what I needed to make me feel wildly enthusiastic again. [My partner] may find me hard to live with for the next few weeks!
Annona Thornton
Renews enthusiasm with new ideas of different way of working. Sharing ideas with other musicians and getting new ones. Excellent day. Great fun. Well done! Continue doing the good work.
Annona Thornton
Fantastic balance of active and passive sessions. The presenters were open, friendly, knowledgable, and fun. The Q&A session was particularly useful. A really fabulous day. Very informative and enjoyable.
Susannah Breaden – YourDNA Creative Arts
Great range of ideas for using and adapting Figurenotes, including games, band, and technology. I will be able to apply some of these ideas straight away, easily adapt others, and work on the technology aspect too.
Susannah Breaden – YourDNA Creative Arts
It's been so awesome. Having fun just reminded me to be using Figurenotes more. Absolutely loved the games, the skittles, the software - loved it all! Thank you for having me!
Mo Malcolm-Gourley
I've got lots of new ideas to use as teaching methods for pupils who struggle with music notation and had a laugh at the same time!
Jen Austin
Excellent! It has worked wonders and the pupils love being able to understand rhythms, as in the past they have 'forgotten how the tune goes' and, therefore, had no success at home.
Elaine Moffat
All proceeds from Figurenotes sales go towards enabling disabled musicians to learn, play, perform, and compose. This important work is carried out by Drake Music Scotland. You can learn more on their website and donate to their life-changing work.